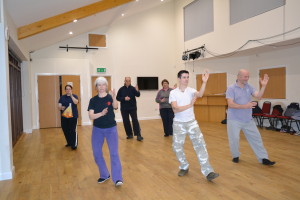 Getting fit and staying in shape is an important part of being able to enjoy life to the full and here at the Millpool Centre we can offer so many ways of achieving this…
Kath Ravell teaches the Tai chi classes at the the Millpool Centre, Kath has a good following for her classes that promote a healthy and balanced approach to fitness. Tai chi helps you to relax, improves balance, can increase energy and improve co-ordination and mobility. Excellent for all levels of fitness especially those who may be in recovery from an injury.
For those of you that enjoy a lively class with up tempo music our Tuesday and Thursday (10.30) morning sessions with Sheila Brock are a definite winner; with great music and syncopated rhythms Sheila never fails to inspire her students and get them moving…
The Looe 'Breathers'club meet for gentle exercise on Tuesdays (2pm) taught by Denise Bond, this class offers the opportunity for those who have COPD and similar health issues to start their journey to getting fit in safe conditions with a tutor who understands their needs…
Dance With Jodie: Move, Stretch and Tone on Wednesday at 1.15. This class is a pleasant, easy workout to lovely music with great results. Suitable for any ages, Jodie's gentle approach to dance style exercise will get you moving as well as meeting a great bunch of people who are Jodie's loyal and regular customers.
On Monday am, Tuesday am, Thursdays eve and Friday mornings (Mon 10am & 11am, Tues 1.30,Thursday 6pm & 7pm & Fri 8.30am & 9.30am) there are Pilates classes with Kerry… Pilates combines classic stretching and toning exercises with simple yoga moves to great effect. Kerry is an excellent teacher; taking personal interest in her students, ensuring they enjoy the classes and importantly reap the benefits…The Friday 8.30 class is new for those early birds who want to get going before work.
Last but definitely not least and my favorite are our twice a week evening yoga classes with Maria (Monday and Wednesday at 6pm). These classes are very popular, Maria has a dedicated following of students who are addicted to her classic brand of yoga, a combination of classic and well researched yoga poses combine with controlled breathing and meditation leave you feeling on top of the world.